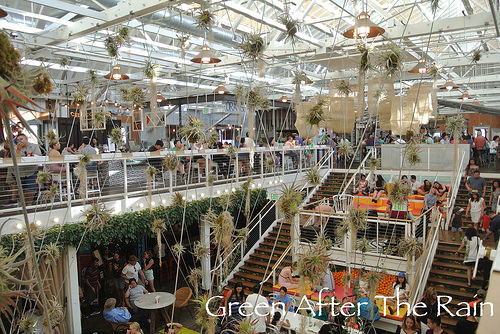 Anaheim's most Instagrammable Spot: Anaheim Packing District
From social media to simple exchanges between friends, it is evident that locations involving "aesthetically pleasing" surroundings is popular in today's world. Some go into the woods to take "instagram-worthy" photos, or drive to another city to visit places pleasing to the eye. 
I, for one, recently visited the Anaheim Packing District, a beautiful food hall in the heart of Anaheim. Although it looks like any old packing house from the outside, there is a whole new world behind its doors. 
With hanging vines and lights on the see-through ceiling and an overall forest-like vibe, the Anaheim packing house is a popular location for those seeking new flavors and photos. The place, essentially, is a food market with vendors such as Mini Monster, Orange-Tei, popbar and so many more. There were also two stores selling cute, quirky products like the "King of Farts" candle. 
The entire structure is two floors, with the second bright, jungle-like surroundings and the first a dark, bar-like setting. Although the house itself is small and at times cramped, it is surprising how many restaurants and vendors this place has. 
I visited this place in July with my family, and the place was beautiful to the eye and the tongue. I had the signature Thai Tea at Mini-Monster, which was milky, sweet, and came with a pretty reusable glass. I had the cold tsukemen at Orange-Tei, which was a little spicy for my taste but still delicious. Finally, I had the deuce de leche gelato bar with chocolate sauce and waffle pieces on top, which was very yummy although it got messy towards the end. Along with all of the food, I was able to take many photos of the "aesthetically pleasing" house, as you can see attached. The only complaint I have would be the price of everything sold there. Most of the food and gifts they sold were a bit pricey, but the deliciousness of it made it worth. 
This unique, aesthetic market is great for anyone wanting some new, interesting food or simply looking for a photoshoot opportunity.